TEACHER'S EDITION



Can You Read These Egyptian Hieroglyphs?




EGYPT REMEMBERED
"Wondrous scenes of an ancient land
Temples, tombs, once buried in sand
Treasures and secrets of a long ago time
Forever cherished within one's mind."
© 1996 - Margaret S. Rigby

DID YOU KNOW?
The ancient Egyptians were the first to
document the use of makeup.
The ancient Egyptian men wore makeup!
Eye makeup was often applied with tips carved from ivory.
A makeup kit was often placed in the tomb so
that the Egyptian could makeup in the afterlife.
The ancient Egyptians often shaved their head and bodies
and wore wigs woven from human hair.
Less well to do Egyptians wore wigs made from reeds.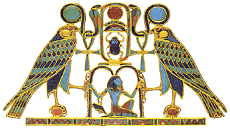 LEARN MORE ABOUT EGYPTOLOGY!
Hieroglyphic Alphabet
Nom en hieroglyphes (Name in Hieroglyphics)
Listen to the Egyptian National Anthem
The Magic and Mysteries of Ancient Egypt
Lostris' Ancient Egyptian Site
The Curse of the Pharaohs - Features "Fun for Kids"
An Interactive Adventure in the Land of Egypt(Travel with Mousey)
Reading Hieroglyphs

Questions? Concerns? Let me hear from you.
tlciii@sccoast.net
Back to Top

Return to (the old ) TEACHER'S EDITION | Return to (the new) TEACHER'S EDITION



Last Updated July 22, 1999